The Simple and Effective SCHOOL MANAGEMENT SYSTEM
SchoolTracs' comprehensive range of features gives you complete control over timetable planning, student databases, attendance, rescheduling classes, student payments, and detailed reports to assist with managerial duties.

SchoolTracs makes running your business faster, easier, and more secure across single or multiple branches.
Start Your Free Trial Now
Learn How SchoolTracs Manages
Your School More Effectively
SchoolTracs has been designed to be easy to use and fully automated wherever possible so that you can reduce your workload and manage your school more effectively. We've made every feature inside SchoolTracs simple to understand and the intuitive nature of our school administrations software reduces the time it will take to train your staff.
Please swipe left or right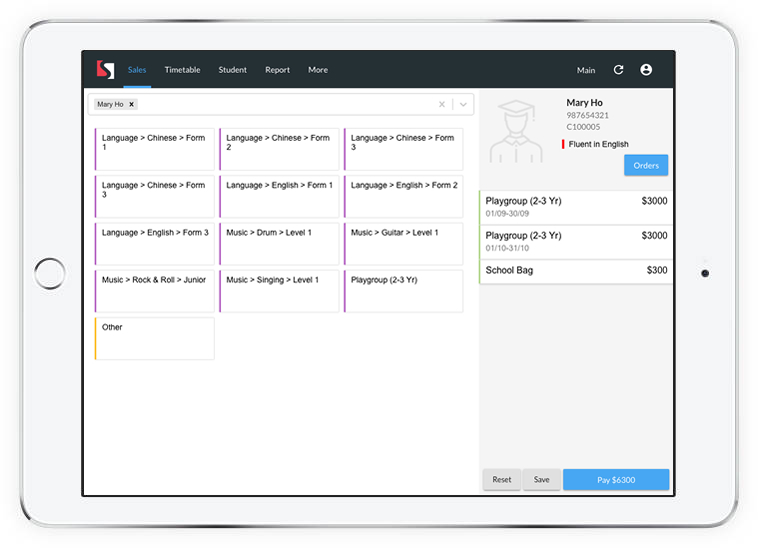 Smart POS Making Your Sales Process Easier
The SchoolTracs smart POS system gives you a powerful point of sale for upcoming courses at your school as well as educational books, specialist equipment and much more. The simple 1-click process of our smart POS system enables you to make quick sales without any hassle or complications.

The smart POS allows you to close your register at the end of every day so that an automatic report can be generated and downloaded when required. In addition to this, the smart POS system automatically updates timetables and allows you to configure recurring course reminders.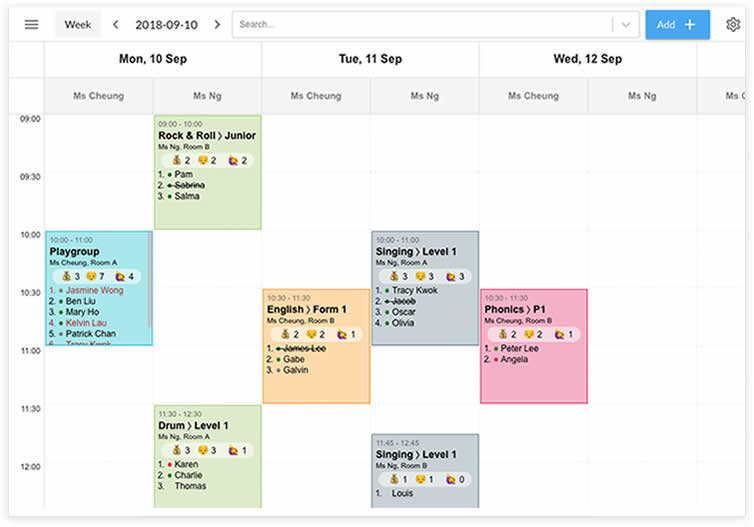 Intuitive Timetable Making Your Time Management More Effective
SchoolTracs' intuitive timetable is a simple, effective and powerful tool that serves to optimize your organizational duties. We've taken a modern approach in our design and the SchoolTracs timetable gives you access and control over essential information about students, lessons and resources.

You'll have no trouble using our intuitive interface and you'll be able to gain insight into what's happening for a given day, week or month. Every aspect of your timetable is customizable and you'll even have the ability to check on student attendance, re-schedule missed lessons and spot students with unpaid bills.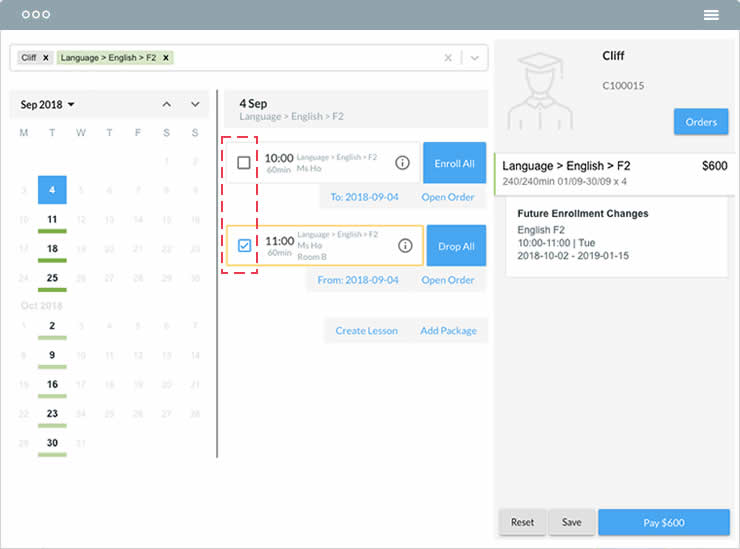 Easy Rescheduling Making Your Catch-Up Classes Easier To Manage
SchoolTracs has been designed to help you spot and react to changes in attendance, missed classes and cancelled lessons. Being able to manage catch-up classes effectively is essential for ensuring your students learn the entire curriculum and avoiding conflict with parents should they have forgotten to schedule a catch-up class for their child.

Built into SchoolTracs' intuitive Timetable, you'll find that rescheduling missed or cancelled classes couldn't be easier. SchoolTracs' intuitive interface allows you to quickly make changes so that you can alter current or future timetables to suit the changing requirements of any course.
Resources Management Making Your Educational Resources More Valued
Being able to provide your teaching staff with valuable educational resources when they require is essential for maintaining your high educational standards. SchoolTracs allows you to stay up-to-date with the use of your resources at all times, so that every member of your teaching staff can organize their use more effectively.

The intuitive SchoolTracs timetable makes managing your education resources a hassle-free experience. Teachers and managing staff can simply reserve educational resources when lesson requirements develop and bookings can be cancelled or amended just as easily.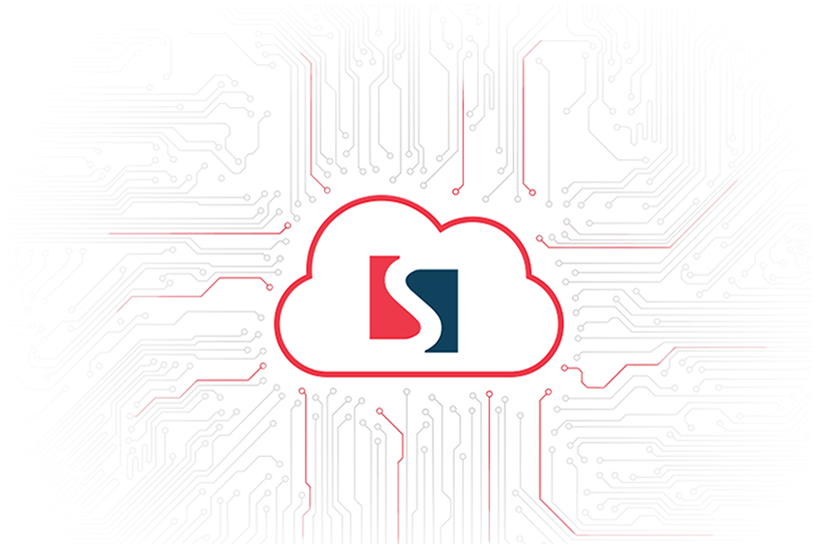 Branch Management Making Your Cross-Branch Organization Simpler
SchoolTracs has been designed so that every employee under your company's umbrella can follow the same system with ease. This includes everything from closing a register and taking attendance to checking on payment reminders and arranging catch-up classes. So, any new employees can quickly grasp an firm understanding of SchoolTracs and this helps to reduce errors.Our branch management feature is easily accessible from anywhere in the world via the online cloud; so your management team can stay up-to-date with essential information and focus on business development from HQ or a remote location. In addition to this, you'll also be able to set customized privileges for specific users or job roles and keep track of every action with our action logging feature.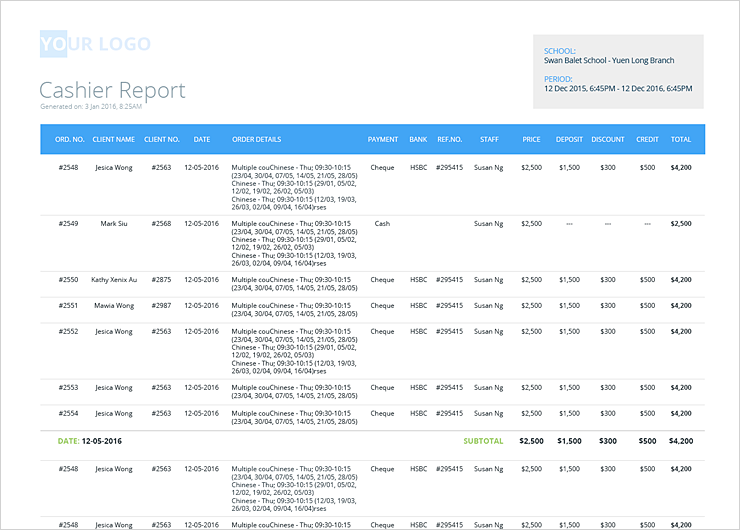 Detailed Reporting Making Your Company Reports Clearer
Understanding your data couldn't be more important when having to make the right managerial decisions. SchoolTracss allows you to present your data in beautifully designed reports that are clear and easy to read.

With SchoolTracs' reports, you'll condense down complex financial data into the facts that matter and this can all be done automatically before being sent to selected recipients. Every aspect of your reports are customizable to suit your unique requirements and SchoolTracs offers a wide range of options when it comes to export file types.
Smart
POS
Intuitive
Timetable
Easy
Rescheduling
Resources
Management
Branch
Management

Reporting
SchoolTracs Is An Essential Tool For
Every Person In Your Company
No matter how big or small your school may be, SchoolTracs offers a wide range of essential features for any role at your company. From owners and administrators to accountants and teachers; you'll find SchoolTracs will streamline your operations and allow your employees to do what they do best.
Owner
As an owner of an educational centre or a number of branches, you'll have access to critical information no matter where you are in the world. What's more, you'll be able to set user privileges and keep track of every one of your employees' logged actions.
Administrator
School administrators using SchoolTracs won't need to copy receipt enrolment information to the timetable; SchoolTracs does this automatically. In addition to this, your administration team will be able to create detailed reports, customize student and teacher records, manage resources, and not have to manually calculate any receipts at the end of the day.
Accountant
Your accountant will find working with SchoolTracs easy because every receipt is tracked with an automated receipt number sequence and all voided receipts are recorded clearly. SchoolTracs is here to give your accounting team more time by automating much of the accounting work, such as calculating holiday, sick days, and cancelled lessons.
Teachers
SchoolTracs' professional user interface allows your teaching staff to operate more autonomously throughout their day. We've included all kinds of essential features for them, including an intuitive timetable, smart POS, easy re-scheduling and much more.
Check out WHAT CUSTOMERS SAY ABOUT US
Before SchoolTracs, We do accounting, statistic and admin work manually. It occupied lots staff's time and was sometimes inaccurate. SchoolTracs simplified our workflow. We implemented multiple colleagues handling parent's payment on front desk. This accelerates the admin task efficiency. Accounting and book keeping is accurate and simple as well!

Before SchoolTracs, We have 14 different centers in HK, but each center has to create the school schedule and student data base individually. The data cannot be shared or transferred easily with lots of confusion. And "big picture" is missing. After SchoolTracs — Our staff appreciate how the system can help update information automatically. As for our customer, since there are fewer mistakes in term of tuition calculation and class timetable, they are happy about our new change.

We had used another online system for management before we found Schooltracs, but its value is lower than what we expected. We found SchoolTracs system is very useful to handle and manage the classes, the most important thing is the service charge is reasonable. Their on-line supports is always helpful. We thank for having them for our business.

We have operated our education centre for more than ten years. Before using SchoolTracs, we used Excel and notebook to manage students' information and created classes schedule. When students took leave or made up lessons, it's time-consuming to trace students' attendance records and error-prone. Since the surge of students, the issues becomes serious. Fortunately, using SchoolTracs helps us a lot, and our colleagues appreciate it. Now, we have three branches and the number of students keeps growing. We rely on SchoolTracs to resolve all challengs.

Schooltracs provides an one-stop solution from student management to POS to reporting, saving hours of manual work.

Send invoice function reduce 99% of time in giving parents the invoice. Scheduling lesson and taking teacher and student's attendance is also much easier.
Expertly Designed To Suit The Needs Of Every Type Of School
Every school is unique and this is why SchoolTracs has been designed to offer such a high amount of flexibility and customizable features. You'll be able to optimize your school and the managerial side of things with ease thanks to SchoolTracs' expertly designed software.

With support for playgroups and schools of all sizes offering English, Language, Music, Creative Arts, Dance, and Sports courses; SchoolTracs will enable you to excel at what you do best.
Expertly Designed To Suit The Needs Of Every Type Of School
Every school is unique and this is why SchoolTracs has been designed to offer such a high amount of flexibility and customizable features. You'll be able to optimize your school and the managerial side of things with ease thanks to SchoolTracs' expertly designed software.

With support for playgroups and schools of all sizes offering English, Language, Music, Creative Arts, Dance, and Sports courses; SchoolTracs will enable you to excel at what you do best.
Easy optimisation for English and Language Schools
Today, more and more students are committing to learn English as well as all kinds of other languages. SchoolTracs offers a wide range of features to relieve the burdens teachers and school managers face, including: lesson counting without a calendar, payment reminders, outstanding payment reports, and timetable support for rooms and teachers.
Automated lesson counting without the use of a calendar
Quickly check for available tutors or rooms with a single click
Timetable slots are automatically arranged by room and teacher
Payment reminders are automatically generated for the next month
Any outstanding payments can be quickly viewed in a generated report
<go back to school list
A range of vital tools for Creative Arts Schools
With many creative arts schools reaching peak attendance on Saturdays, ensuring a smooth operation at your school is essential. With SchoolTracs, you can quickly check current class enrolment numbers and the number of available seats for every class that you offer. In addition to this, you'll gain access to powerful tools that will help you sell accessories for specialist classes.
Advanced timetable features make organising classes easy
Accurately keep track of your remaining stock when selling products
Access powerful sales tools to help you sell accessories for specialist classes
Quickly check your student enrolment numbers and seat availability for each class
<go back to school list
In-depth management for Music Schools
The flexible nature of music school management requires a reliable and dedicated platform like SchoolTracs to make things easier. SchoolTracs gives your team the power to easily arrange extra lessons, track schedules and payments with ease.
Lesson timeslots directly relate to upcoming payments
Quickly arrange any catch-up classes or additional lessons for your students
Searching for students will give a clear indication of any outstanding payments
<go back to school list
Essential management control for Dance Schools
Dance schools often experience their peak attendance on Saturdays and managing this busy period effectively is easy with SchoolTracs. You'll gain access to vital tools that will allow you to check how many students are currently enrolled on any course and how many seats you have available. Additionally, you'll get powerful tools to help you sell accessories for specialist classes.
Keep track of your stock when selling products to students
SchoolTracs' timetable feature helps you to organise classes effectively
Take advantage of powerful sales tools and sell your accessories with ease
Check your student enrolment numbers and seating availability for any class
<go back to school list
Unique features for Playgroups
Playgroups have some of the fiercest competition when it comes to pleasing parents and the unique features of SchoolTracs give those using our platform a direct advantage. With SchoolTracs, catch-up classes are easily arranged, birthday SMS and party invitations can be sent out for an added personal touch
Let parents know you care with a birthday SMS for students
Arrange birthday parties and send out invitations over SchoolTracs
Provide parents with clear information about any required catch-up classes
SchoolTracs' features allow your playgroup to offer a more personalised service
<go back to school list
Perfect for Homework Schools
If you operate a homework school for children of all ages, SchoolTracs' rich list of features will make your managerial duties far easier. With everything from a state-of-the-art POS to an intuitive timetabling system, SchoolTracs can help you organise every aspect of your homework school in a way that suits your unique management style.
Detailed reporting
State-of-the-art POS
Attendance tracking
Intuitive timetabling system
<go back to school list
Crucial management tools for Sports Schools
With the busiest periods at sports school normally falling on Saturdays, SchoolTracs makes your management duties far easier to stay on top of. SchoolTracs gives you the ability to see exactly how many students are enrolled in a class and how many seats you have available at any time. In addition to this, SchoolTracs has a wide range of powerful sales tools to aid you when selling accessories for specialist classes.
Organise your classes easily with SchoolTracs' timetable features
See exactly how much stock you have when selling your products
Check enrolment numbers and seat availability for any class at any time
Sell your specialist products with ease through SchoolTracs' powerful sales tools
<go back to school list
The ideal choice for Tuition Centers
With almost all students learning at tuition centres, it comes as no surprise that managerial tasks can be overwhelming at times. SchoolTracs' advanced Staff and Branch Controls, Automatic Payment Reminders, Attendance Tracking, and more takes management to a new level of efficiency; no matter the size of your tuition centre.
Save and print attendance records
Outstanding payments are tracked and highlighted
Change the permission access of certain or all staff members
Payment reminders are automatically generated for the next month
<go back to school list